Welcome to ThaiGrocer.com.
We're here as your convient resource for thai groceries and thai cooking school information.
Thai Cooking School
Hosting a cooking school is our way of sharing 12 years of experience importing the finest Thai ingredients & cookware for our online Thai grocery. Join us as we take you to the same kitchens and sidewalk food carts where we've produced hundreds of authentic Thai recipes & Street Vendor Videos. Meet our own family & friends in Kanchanaburi, where we pull up a chair for you and share generations of cooking knowledge.
We'll teach you how to cook a variety of recipes in a clean and organized kitchen at a gorgeous riverside resort surrounded by organic gardens, fragrant trees, and immaculate tropical scenery. You'll learn the fundamentals--true local flavors, how to control a wok, when to add spice, using a mortar & pestle, etc. We also eat together at delicious local roadside restaurants, and we'll spend several evenings walking around a pedestrian area of the city where hard-working street vendors demonstrate their unique craft of delivering delicious meals on the spot right in front of your eyes. A week-long adventure full of memories to last a lifetime (and some extra pounds to carry home).
Find out more about our thai cooking school.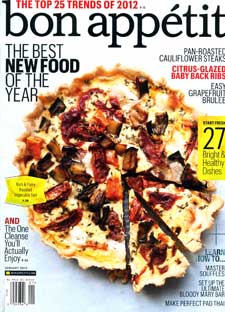 Since 1999 America's best resource for authentic Thai groceries, cookware, and recipes.
Proud to be featured in the January 2012 issue of Bon Appetit magazine's "Thai Food 101", and the new July 2012 issue. ThaiGrocer products mentioned in the magazine include: